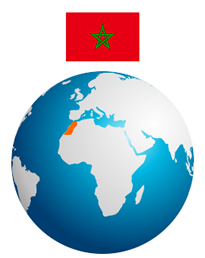 WINDSURFING HOLIDAYS IN MOROCCO
Morocco is home to some of the world's most reliable and most exciting windsurf locations. It is also one of the most fascinating and charismatic countries to visit in the world. Situated in the North West tip of the African continent, Morocco has over 3500 kms. of coastline. The excellent winds ensure that vast ranges of windsurfing conditions are always available, and this is why Morocco is sought out by windsurfers. The coastline of Morocco is the perfect location for an unparalleled windsurfing experience, it offers an unforgettable lifetime experience and the ideal mix of having fun and windsurfing epic Moroccan waves. Morocco is a great year-round windsurfing holiday's destination which offers an attractive combination of sunshine, wind, waves and cultural experience.
Planet suggested tour itineraries
Atlas Explorer

3 Nights In Marrakech, 2 Nights In Atlas Moutains And 5 Nights In Dakhla

3 Nights In Marrakech, 2 Nights In Atlas Mountain And 9 Nights In Essaouria

No more tours

New tours

may come...
WEATHER GENERAL OVERVIEW FOR MOROCCO
Morocco's interior is at its best in spring (mid-March to May), when the country is lush and green, followed by autumn (September to November), when the heat of summer has eased. At other times, don't underestimate the extremes of summer heat and winter cold, particularly in the High Atlas, where snowcapped peaks persist from November to July.
The resort Essaouira is best from April to October with air temp. between 25 - 30 cooled by the constant Atlantic breeze.
The region or Dakhla can be visited all year around but the summer temperatures can be extreme so we advice the best time to travel from Sept to May.