PHILIPPINES WINDSURFING HOLIDAYS
Did You Know?
The Philippines derive their name from King Philip II of Spain and today this country is the world's largest exporter of coconuts and tropical fruit. The Philippines also has the highest rate of discovery of new animal species on the planet, with 16 new species of mammals discovered in the last 10 years.
Suggested Tour Itineraries In Philippines
Windsurfing Holidays In Philippines
Windsurfing holidays in Philippines will lead you to discover breathtaking caves, magnificent lakes, scenic beaches, world-class marine reserves and alluring windsurf sites. Its 36,289 kilometers of coastline makes it the country with the 5th longest coastline in the world. The Philippines is the third largest English speaking country. It has a rich history combining Asian, European, and American influences. The tropical seas and consistent winds of the Philippines make the country a paradise for windsurfing, the steady 12-30 knot winds and warm weather create ideal sailing conditions. Boracay is perfect for beginner to extreme windsurfers looking for perfect mixture of sun, sea and surf. The water is always warm and the lagoon is shallow enough to stand in most places. An offshore coral reef protects it from the onshore waves and swells, so beginners can start inside and experts can go out.
History And Culture Of The Philippines
The Philippines have many festivals and processions. The majority of the cultural celebrations are closely related to the Catholic religion. Nearly 90% of the Filipinos are Roman Catholic. Many of their religious ceremonies and festivals are in the following months: January, April, May and June.
For the Filipinos themselves, every year the festivals and processions are days of great joy and happiness. Almost all celebrations feature music, dancing, and food feasts. The most well-known festivals are the procession of the Black Nazarene, the
Ati-Atihan
, the
Sinulog
, the Flores de Mayo and the Santa
Cruzan
.
Travel Health For Philippines
Do ask your travel health expert (e.g. GP, practice nurse or travel clinic) to provide you with up-to-date information and vaccines to ensure your travels are safe and enjoyable.
Bring light and casual clothing like cotton or linen - but remember that you must cover up in public places. It is advised to cover up in the evenings to avoid mosquito bites. Sun protection is absolutely essential. It is recommended that you drink bottled water.
It is vital to ensure that all members of your party have adequate health and travel insurance cover, which not only includes cover for holiday cancellation and loss of baggage but also provides adequate medical cover including cover for any 'higher risk' activities you are likely to take part in.
Philippines Travel Money
The currency in the Philippines is the peso (
PhP
) and the Centavo. 100 centavos =
P1
. Coin denominations are: 1, 5, 10, and 25 centavos,
P1
, and
P5
. Bill denominations are: 10, 20, 50, 100, 500 and 1, 000 pesos.
Foreign currency may be exchanged at your hotel, and in most of the large department stores, banks and authorised money changing shops. Exchanging money anywhere else is illegal and the laws are strictly enforced.
Most large stores, restaurants, hotels and resorts accept major credit cards including American Express, Visas and MasterCard.
Traveller
s cheques, preferably American Express, are accepted at hotels and large department stores. Personal cheques drawn on foreign banks are generally not accepted.
The Entry Requirement
You will need to ensure you have correct documentation for your holiday including a full passport valid for the minimum period beyond your planned return date. You may also require a visa.
Citizens of most countries who are travelling to the Philippines for business and tourism purposes are allowed to enter the Philippines without visas for a stay not exceeding twenty-one days, provided they hold valid tickets for their return journey to port of origin or next port of destination and their passports valid for a period of at least six months beyond the contemplated period of stay.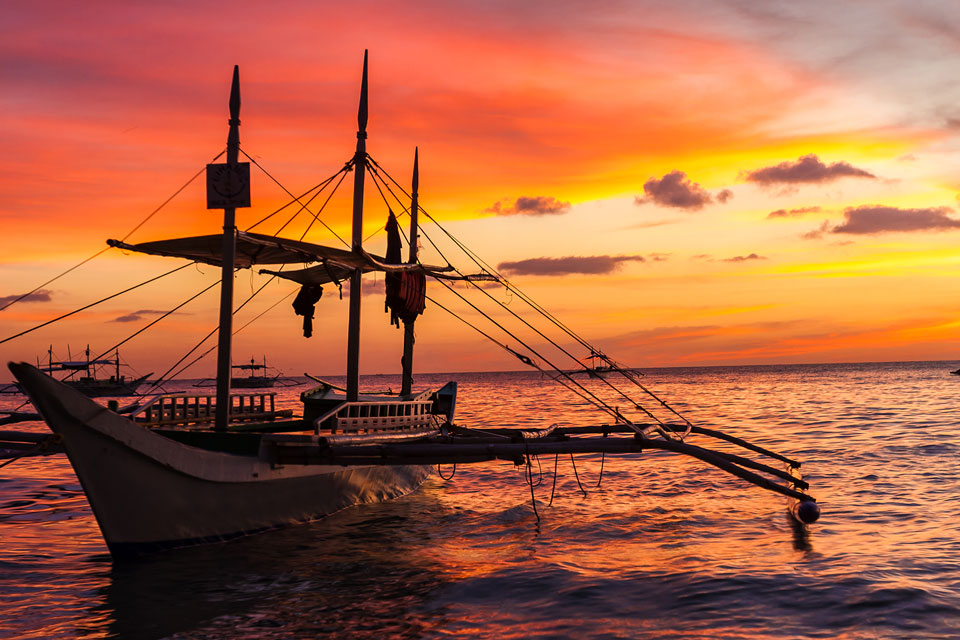 Beginners

Advanced

Waves

Singles

Eating Out

Nightlife

Families

Un-spoilt

Culture

Luxury Hotel

Spa

Multi-sport