HURRICANE HOTEL IN
One week Breakfast, FLT & Transfer

around

$ 944 p.p.

Prices are as a guide only, assuming UK flights (we offer worldwide departures), over low seasons. Please call for an immediate accurate quotation, or use our 'Quick Quote' tool for a better guide price based on your dates.
Why You'll Love Windsurfing With Hurricane Hotel!
An amazing location with views over the straits of Gibralter
A great restaurant famous for its high quality Mediterranean cuisine
Walking distance to a number of restaurants and bars
/destinations/tarifa/images/hurricane4.jpg
/destinations/tarifa/images/hurricane3.jpg
/images/hotels/69f0fa9ae981101a011e63c9808050373b9ddb21.jpg
/images/hotels/420275ac31f82648cb2bc35a907619497869ed649e417.jpg
/images/hotels/7207957365e91df97dba8eee9cb4218db96970700426f7.JPG
/images/hotels/335223502426c8b333767da9065465f5b7e3231a65bb9b.jpg
/images/hotels/7685747d9e827b704bafed25fde592f8e003f4cc8aed30.jpg
/images/hotels/6365597365e91df97dba8eee9cb4218db96970700426f7.JPG
/images/hotels/166535833782051e9620558c5a31bb94af25900cd450ba.jpg
/images/hotels/8636232418f979d0f212363b808b881a13a9c300831ecb.jpg
/images/hotels/7227538f2960af2495dc5dc474599e18e9aaa9aa89f062.jpg
/images/hotels/636559f909427af9a7c17247026c4585d24aa2e458ada9.jpg
/images/hotels/768230da80c8fbf09c441e933c56698e40c9a9cb33ae14.jpg
Hurricane Hotel General Impression
The Hurricane Hotel it set in sub-tropical gardens with views over the straits of Gibralter to Morocco, it's in a beautiful situation. From the hotel are paths leading down to the famously windy beaches. There is a friendly, informal atmosphere which promotes a relaxing stay.
The restaurant at Hurricane Hotel, focuses massively on quality, using fresh vegetables and herbs from their own garden, and locally sourced meats.
The Hurricane is not just a hotel, it is also a stables, where you can take lessons and excursions around the beautiful surrounding areas.
Accommodation
You can choose from 16 double rooms on the mountain side (recently fully refurbished) and 12 doubles, 2 luxury suites with salons and fireplaces and 3 family suites with two bedrooms all on the sea side. All rooms have air conditioning and central heating, as well as minibar and safe and most rooms give on to pleasant terraces, balconies or gardens.
Family Suite: All the family suite have 2 bedrooms with TV and DVD, 2 bathroom and a small garden. All these suites are recently renovated and have a different theme.
2 Luxury Suites: The first has 2 bedrooms, one bathroom, big salon with chimney, TV and DVD. This suite has big windows with view on the ocean. The second suite has one bedroom, one bathroom, big salon with double bed and a chimney, TV and DVD. This also has big windows with view on the ocean.
Hurricane Hotel Facilities
- Fully equipped gym - Yoga classes - 2 swimming pools - Saunas - Massages - Tennis court
- Mountain bikes - Kayaks - Horse riding - Rock Climbing - Sailing - Kite Surfing - Scuba Diving - Golf courses
Restaurants & Bars
The restaurant is famous for its high quality Mediterranean cuisine set in a Moorish ambience. We use herbs and salads from our own vegetable garden while meat and fresh fish is grilled on our charcoal-burning barbecue. The restaurant has been recommended in countless reviews. In summer the candlelight-tables are set outside in the gardens overlooking the pool with spectacular views across the Straits of Gibraltar to Morocco.
The surf schools, one directly in front of the Hurricane hotel and one 2 km further west at Valdevaqueros, both have beach bar restaurants with salad buffets, gazpachos, paellas, grilled meat and fish, homemade cakes and fresh juices.
When the countless surf shops close the nightlife begins. There are numerous traditional bars for tapas and local seafood, and a healthy selection of good restaurants. After dinner you can visit the many lively bars, chill-out lounges and discoteques. Most restaurants, bars and clubs are in town, within walking distance.
Read More
Speak to an Expert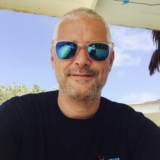 Got a question? Contact our travel experts for a detailed quote to match your holiday requirements. Phone, email, or live chat - or we can even call you back!
0044 (0) 1273 921 001
SEND AN ENQUIRY >